PL Welcome
"We are very excited to work with Education Elements as a part of our strong investment in our staff. We are poised to make significant progress in personalizing the educational experience for all of our students and this professional development will help us fulfill our long term goals in this endeavor." –Sean Dusek, superintendent, Kenai Peninsula Borough School District
What is Personalized Learning?
Personalized Learning (PL) redefines the terms teaching and learning by leveraging technology, flexible classroom organization, and student ownership. Students become co-designers in their learning through classroom environments that utilize a combination of collaboration, direct instruction, and student choice. This provides learners an opportunity to work at their own pace, path, and place to better meet their individual needs.
Many of our teachers implement elements of personalized learning in their classrooms right now!
The core four elements of Personalized Learning include: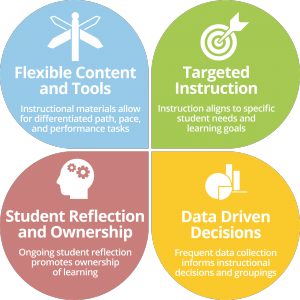 Click: Read Superintendent Dusek's April 2017 letter to staff
FAQ's
Read FAQs
Links